Description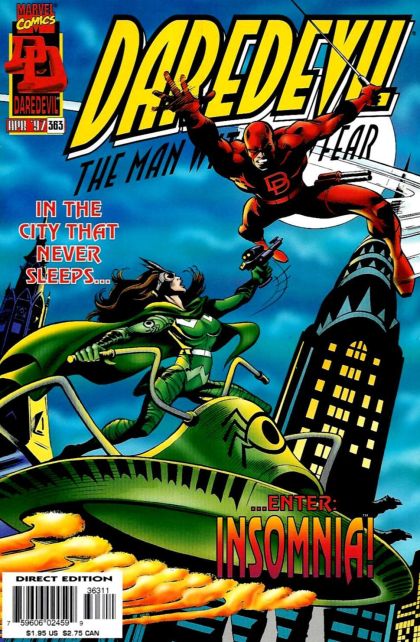 Daredevil, Vol. 1 #363
Marvel Comics
For Sale
The City That Never Sleeps!
April 1997
Comic  Modern Age $1.95
Read It: Yes 32 Pages
Karen starts to suspect something unusual is going on at her workplace, but doesn't get time to look into it before DD runs into Insomnia. Insomnia is trying to steal a set of chemicals very similar to those the Grey Gargoyle was after, though he doesn't yet know why.
Creators
Writer
Karl Kesel
Penciller
Gene Colan
Inker
Cam Smith, Paul Neary
Colorist
American Color, Christie 'Max' Scheele
Letterer
Comicraft
Cover Penciller
Gene Colan
Cover Inker
Karl Kesel
Editor
Jaye Gardner, James Felder

Characters
Mercedes 'Misty' Knight,
Karen Page,
Elizabeth 'Liz' Allan-Osborn,
Franklin 'Foggy' Nelson,
Insomnia,
Niomi Brinke,
Daredevil (Matt Murdock)

Product Details
Series Group
Daredevil
Genre
Action, Adventure, Super-Heroes
Color
Color
Barcode
75960602459936311
Country
USA
Language
English
Release Date
April 1997

Personal Details
Collection Status
For Sale
Current Value
$4.00