Description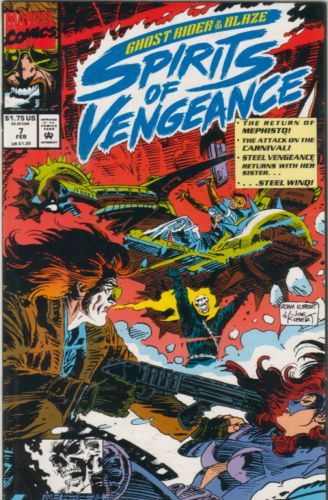 Ghost Rider / Blaze: Spirits of Vengeance #7
Marvel Comics
For Sale


#961
The Great Hunt, Part 1: A Day Of Vengeance, A Day Of Death!
February 1993
Comic  Modern Age $1.75
Read It: Yes 32 Pages
Steel Wind and Steel Vengeance return and attack the Quinten Carnival in search of Ghost Rider and Blaze. With the Stygian hordes at their command, the Steel sisters wreak havoc at the carnival. Blaze and Ghost Rider stem the tide however, just long enough for Mephisto to appear and abduct the Spirits of Vengeance. Meanwhile, in the backup story "The Great Hunt", Ghost Rider must stop demonic cannibals from feeding on innocents of New York during a freak blizzard.
Creators
Writer
Howard Mackie
Penciller
Adam Kubert
Inker
Bill Reinhold
Colorist
Gregory Wright
Letterer
Bill Oakley
Cover Artist
Adam Kubert
Editor
Bobbie Chase
Editor In Chief
Tom DeFalco

Characters
Johnny Blaze,
Hag,
Steel Wind,
Mephisto (Mephistopheles),
Troll (Bartholomew J. Troll),
Steel Vengeance,
Deathwatch (Stephan Lords),
Ghost Rider (Daniel 'Danny' Ketch)

Product Details
Genre
Adventure, Super-Heroes, Horror, Action
Color
Color
Barcode
75960601927400711
Country
USA
Language
English
Release Date
February 1993

Personal Details
Collection Status
For Sale
Current Value
$3.00