Description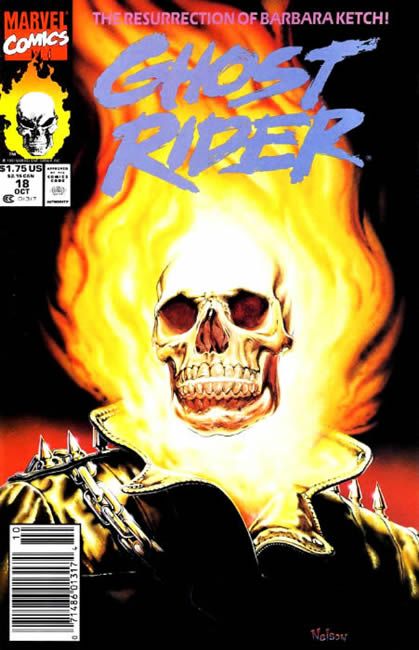 Ghost Rider, Vol. 2 (1990-1998) #18
Marvel Comics
For Sale


#906
Lost Souls!
October 1991
Comic  Modern Age $1.75
Read It: Yes 32 Pages
Johnny Blaze departs; finally convince that Dan is not possessed by Zarathos, the demon Blaze was once bonded with as the original Ghost Rider. The new Sin-Eater, the blood-thirsty Reverend Styge, seduces Mrs. Ketch with the hope of resurrecting Dan's sister Barbara. Dan learns of Styge's true intentions and intervenes with his plans for Mrs. Ketch. Ghost Rider defeats the reverend and rescues Mrs. Ketch from his clutches. But many questions still remain. Who is Styge's dark master and what is his connection with Ghost Rider?
Creators
Writer
Howard Mackie
Penciller
Mark Texeira
Inker
Mark Texeira
Colorist
Gregory Wright
Letterer
Janice Chiang
Cover Artist
Nelson DeCastro
Editor
Bobbie Chase
Editor In Chief
Tom DeFalco

Characters
Johnny Blaze,
Ghost Rider (Daniel 'Danny' Ketch),
Sin-Eater (Reverend Styge)

Product Details
Series Group
Ghost Rider
Genre
Action, Adventure, Horror, Super-Heroes
Color
Color
Country
USA
Language
English
Release Date
October 1991

Personal Details
Collection Status
For Sale
Current Value
$3.00