Description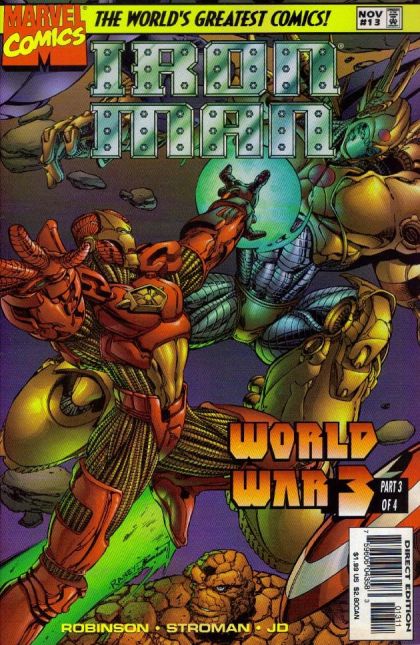 ron Man, Vol. 2 #13
Marvel Comics
For Sale


#1004
World War 3 – Part 3: No Time To Mourn!
November 1997
Comic  Modern Age $1.99
Read It: Yes 32 Pages
The teams deal with the loss of their satellite base, which fell to a saboteur. The identity of the saboteur is revealed when he attacks the few survivors once more.
Creators
Scripter
James Robinson
Penciller
Larry Stroman
Inker
John 'JD' Dickenson, Homage Studios
Colorist
Martin Jimenez, Wildstorm FX
Letterer
Albert Deschesne, Richard Starkings
Cover Penciller
Tom Raney
Cover Inker
Richard Bennett
Editor
Ruben Diaz
Editor In Chief
Bob Harras

Characters
Grifter (Cole Cash),
Triton,
Annihilus,
Vision (Jonas),
Deathblow (Michael Cray),
Cyclops (Scott Summers),
Void (Adrianna Tereshkova),
Captain America (Steve Rogers),
Scarlet Witch (Wanda Maximoff),
Invisible Woman (Susan Storm-Richards),
Zealot (Zannah / Lucy Blaze),
Thor (Donald Blake),
Nightcrawler (Kurt Wagner),
Mr. Fantastic (Reed Richards),
Iron Man (Anthony 'Tony' Stark),
Dr. Doom (Victor von Doom),
Storm (Ororo Iqadi T'Challa),
Wolverine (Logan / James Howlett),
Thing (Benjamin J. Grimm)

Product Details
Series Group
Iron Man
Genre
Action, Adventure, Super-Heroes
Color
Color
Barcode
75960604358301311
Country
USA
Language
English
Release Date
9/17/1997

Personal Details
Collection Status
For Sale
Current Value
$3.00