Description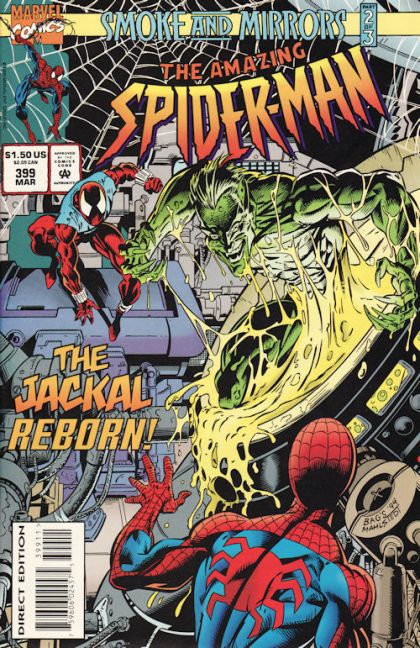 Marvel Comics
For Sale
Smoke and Mirrors – Part 2: Resurrection!
March 1995
Comic  Modern Age $1.50
Read It: Yes 32 Pages
Peter and Ben have been drawn to the same spot in the wilderness, where they meet the Jackal. The Jackal gives them a version of history that neither is really willing to accept.
Creators
Writer
J.M. DeMatteis
Penciller
Mark Bagley
Inker
Larry Mahlstedt
Colorist
Bob Sharen
Letterer
Bill Oakley
Cover Penciller
Mark Bagley
Cover Inker
Larry Mahlstedt
Editor
Danny Fingeroth
Editor In Chief
Bob Budiansky

Characters
Scrier
Scarlet Spider (Ben Reilly)
Kaine (Peter Parker (Clone))
Gwen Stacy (Clone)
Jackal (Miles Warren)
Spider-Man (Peter Parker)
Spidercide (Peter Parker (Clone))
Jackal (Peter 'Jack' Parker (Clone))

Product Details
Series Group
Spider-Man
Genre
Adventure, Super-Heroes, Action
Color
Color
Barcode
75960602457539911
Country
USA
Language
English
Release Date
1/10/1995

Personal Details
Collection Status
For Sale
Current Value
$6.00