Description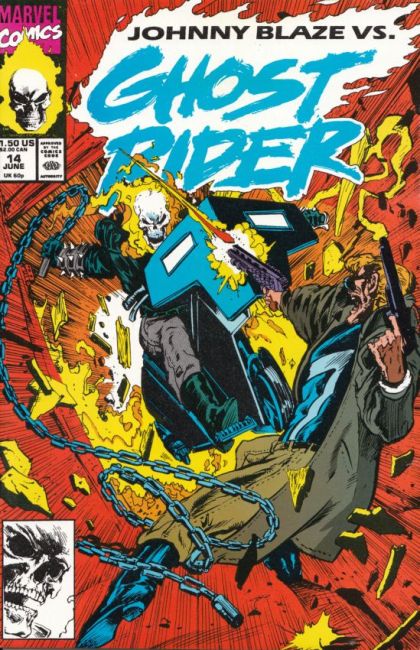 Ghost Rider, Vol. 2 (1990-1998) #14
Marvel Comics
For Sale


#902
Happily Ever After?
June 1991
Comic  Modern Age $1.50
Read It: Yes 32 Pages
Johnny Blaze is convinced that Dan is possessed by Zarathos – the demon that once possessed him as the original Ghost Rider. Now Johnny holds Dan hostage in hopes of drawing out Ghost Rider and killing him. Dan transforms and escapes with his life, but just barely. It seems Johnny has gained the ability to wield mystic Hellfire – the only thing that can harm or even kill Ghost Rider. Meanwhile, the vampire Blackout has been on a killing spree in Central Park at the behest of Deathwatch. What is Deathwatch's plan for Ghost Rider? And what role will Blaze, Blackout and H.E.A.R.T. play in it?
Creators
Writer
Howard Mackie
Penciller
Mark Texeira
Inker
Mark Texeira
Colorist
Gregory Wright
Letterer
Janice Chiang
Cover Penciller
Mark Texeira
Cover Inker
Mark Texeira
Cover Colorist
Gregory Wright
Editor
Bobbie Chase
Editor In Chief
Tom DeFalco

Characters
Johnny Blaze,
Deathwatch (Stephan Lords),
Blackout (Lilin),
Ghost Rider (Daniel 'Danny' Ketch)

Product Details
Series Group
Ghost Rider
Genre
Action, Adventure, Horror, Super-Heroes
Color
Color
Country
USA
Language
English
Release Date
June 1991

Personal Details
Collection Status
For Sale
Current Value
$3.00