Description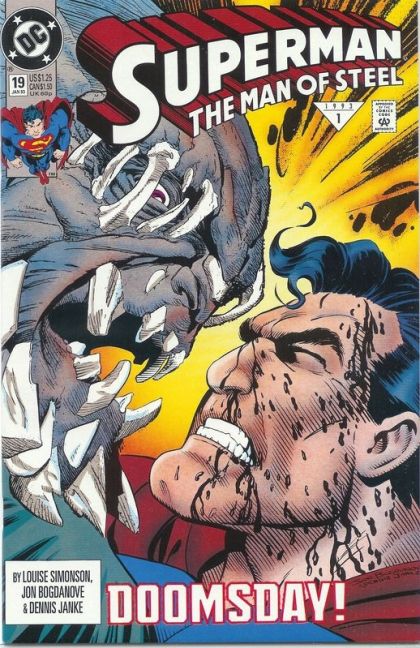 Superman
Doomsday! – Doomsday Is Here!
Jan 1993
Modern Age / USA / English
Comic / 32 pages / $1.25
Doomsday has arrived in Metropolis, and it's taking everything Superman's got to keep standing to fight it. It soon reaches the heart of the city, leaving thousands of innocent lives in the path of destruction.
Creators
Writer
Louise Simonson
Penciller
Jon Bogdanove
Inker
Dennis Janke
Colorist
Glenn Whitmore
Letterer
Bill Oakley
Cover Penciller
Jon Bogdanove
Cover Inker
Dennis Janke
Cover Colorist
Dennis Janke
Editor
Mike Carlin

Characters
Martha Kent,
Doomsday,
Jonathan Kent,
Lois Lane,
Guardian (Jim Harper),
Jimmy Olsen,
Supergirl (Matrix),
Lex Luthor,
Superman (Clark Kent),
Superman (Kal-El / Clark Kent)

Product Details
Series Group
Superman
Genre
Action, Adventure, Super-Heroes
Color
Color
Barcode
76194120050701911
Country
USA
Language
English
Release Date
January 1993

Personal Details
Collection Status
For Sale
Current Value
$12.00